Calgary Boiler Repair and Boiler Replacement
We specilize in Boiler repair – Calgary, AB  , in floor heating and radiant heating systems in Calgary. We provide quality expert knowledge when it comes to boilers –  BOILER repair  in CALGARY Our professional Heating contractor will sole your heat issues. 
DHL Mechanical is a Calgary Boiler expert. Its what we specialize in , We are  well-trained for routine or urgent repairs of your boilers and in floor heating systems  at a reasonable cost. Call us for help if your radiant floor heating stops working,need service, or you looking at installing a completely new boiler .
Some Common Boiler Problems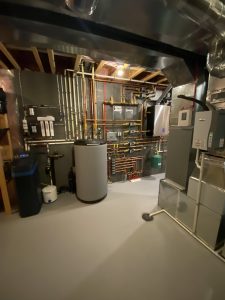 A in floor heat boiler  cannot effectively warm you up if it is not operating at optimum efficiency or needs maintenance. A boiler that is outdated or mismanaged may have several problems, such as:
An inefficient or malfunctioning thermostat that can occasionally cause the boiler to operate erratically
Rusty or tattered seals
Leaks or malfunctioned parts that prevent the production of heat
Production of odd noises like slamming, whizzing, or rumbling
Poor water pressure or water balance
Lime and silt accumulation that results in decreased water flow, hot water, or broken vents
Exposed boiler pipes that seem to be frozen
The solution for these problems depends upon the boiler's age, its function at home, and the energy supply.
There is indeed a ton of advice on the web for fixing boiler problems, but if you don't know mechanical devices and their operation, you can find yourself dealing with a severe issue.
When to Replace VS Fix Radiant heating and cooling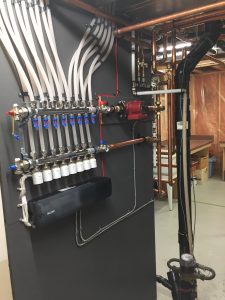 While working with older boilers, it's preferable to think about upgrading them.
Boilers typically last between 10 to 15 years, so if adjustments are regularly needed, and your boiler is towards the end of its life, better think about replacing it.
Moreover, boilers are often not a "DO IT YOURSELF" type project. They are intricate, and troubleshooting at home may cause additional harm to your boiler. Our service and maintenance center staff consistently provides services upfront and sincerely. 
Failure of proper heating spills, gurgling, whistling, and loud functioning are a few typical issues that our team handles. 
We advise clients on whether they can fix their present heating or plumbing issues independently or need technical assistance.
Thermal energy - Furnace repairs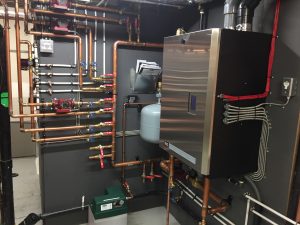 It is a crucial to regularly have your boiler system check frequently to ensure its smooth operation and to extend its life just in same way you want to have your forced air heat system checked. Your hydronic underfloor heating benefits from a proper running boiler.
Combustion analytics is the theory of figuring out how to ignite a device to produce clean, regulated heat. It can significantly impact the lifespan of boilers, furnaces, or water heating heaters, even though it is often disregarded during new installations and regular yearly service. However, gas appliances are frequently installed without being calibrated by the company, and the dealer may connect them and turn them on.
Our experts will assess the combustion rates using the most recent combustion monitoring equipment and then change them so that your device is optimal for quality and reliability.
What Does Our - Heating Service Boiler Repair Include?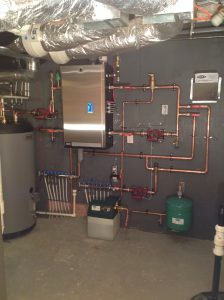 Our boiler repair service offers the following:
High-caliber work performed by qualified professionals
Use of high-quality tools and materials
One of our professionals will come to your house to look into and identify the issue with your boiler
Excellent client service and coordination from our team
They'll give you a fixed-price estimate for the service
If there are other alternatives available, we will give you a written notice of these flat-rate possibilities so that you may pick the one that fits best for you at the moment
There won't be any unpleasant billing surprises
Condensing boiler Maintenance Services in Calgary
You should include Calgary boiler maintenance checks in your yearly schedule.
Or else, you are just asking for anything to go wrong, and you can end up lacking warmth in the middle of a brutal Calgary winter.
That calls for a long, chilly whole day/night and pricey urgent fixes. You could even need to upgrade your boiler as a result.
Hardly a home or company wants to be in this circumstance.
We support preventive measures. Because of this, we can plan to get in touch with you whenever your boiler needs maintenance.
Your boiler should be cleaned and maintained regularly, much like your automobile. You may prevent unpleasant incidents and extend their lifespan and performance by taking good care of them.
With routine maintenance, you can anticipate any issues and enter the winter knowing you will not be left chilled.
Central heating - Our Calgary Boiler Service
It includes:
Changing or cleaning the igniter
Conducting a boiler combustion study. It includes an inspection for carbon monoxide spills.
A thorough safety inspection
Some Basic Tips for Boiler Maintenance in Calgary
Maintain a clean boiler room, including the burners. For a Calgary boiler to operate at its best, the boiler room must be tidy.
Continue to secure the control covers and burner. The controllers' electrical connections are highly delicate.
Swiftly fix any leaks. Every pipe link to the burner and boiler must be leakage-free since even a minor breach can quickly become significant if ignored.
The air vents of the boiler room should never be closed. Build air vents to guide air movement if cold air streams interfere with other boiler room gear.
A steam boiler can mat or prime, which might result in water spilling into the steam mainline. Violent oscillations or a rapid drop in the liquid level in the container might be used to identify it. 
What do the Boiler Service Include?
It generally consists of:
Visual Examination
The visual examination of the system is the first step in a boiler service, during which our professionals search for indications of wear and tear, strain, or deterioration on the boiler.
Control Testing
The security and control devices will then be put to the test by the professional to ensure that they are completely and correctly operational.
Flue Inspection
The flue is thoroughly inspected to ensure that there are no obstructions and that it is securely installed. A flue gas analyzer test is also performed to determine whether the boiler is consuming the right proportion of gas and air.
Eliminating the Casing
The technician will take the boiler's shell off to examine the internal parts.
Cleaning
The primary injector, exchangers, flue routes, combustion pins, ignition, and sensing probes are among the major parts that must be removed from the boiler, examined, and cleaned as part of a boiler service.
All Components Inspection
The expert will next carry out additional inspections on other components, including the valve, seals, pilot burners, and flame detect the unit. To avoid any spills, the technician might swap out the seals.
Condensation of Trap and Pipe
The technician will examine your condensation trap and pipe if you have a condensing boiler to ensure that they are not clogged.
Leak Testing
The expert will look for any carbon monoxide leaks that could be present.
Operational Test.
The technician will turn on the boiler to check if everything is functioning correctly when the service is finished. We check to ensure flooring is heating up. We also provide pros vs cons of replacement vs fixing the system.
Water heating
Condensing boiler
Hot water storage tank
Superheater
Frequently Asked Questions
Boiler repairs in Calgary
Life will be very uncomfortable without hot water, especially in Calgary's chilly autumn and winters. Calgary Boiler heating systems are an effective way to keep your house warm. With so many advantages, it's no surprise that both homes and companies like them.
Your boiler requires regular maintenance, and if it needs fixing, it must be done right away. But you most likely don't give it any thought until it breaks down.
Homeowners experience considerable stress when a boiler breaks down, malfunctions, or is inefficient. Therefore, it is advisable to seek our professional assistance to maintain your boiler correctly and enjoy years of warmth.
More topics You maybe interested in :
Heat Boiler Questions You Should Ask Before Purchasing?
Heating Systems You Should Consider?